Cathy Forbes has been active all her life. Physical activity was just part of life for this Cooksville, Illinois farm girl. Whether she was helping with the livestock, mowing the yard, riding horses or biking down country roads, it wasn't exercise to her, it was a way of life. Years later, she's made a career of helping others incorporate exercise into their lives by teaching group fitness. For 30 years, 26 of them at Wilson's, she's been an active and fit role model to her class members; healthy and happy because she keeps moving.
At school, with her infectious smile and enthusiasm, Cathy graced the high school cheer squad; the smallest one, she could be found atop the pyramids. But, back in the day, girls' sports in rural schools didn't exist. President Kennedy lead the push for the inclusion of physical education in public schools. Think locker rooms, uniforms, choosing up teams, and showering after class. "I loved gym class but many of the girls didn't like getting sweaty," Cathy recalls. She also remembers fondly participating in the GAA (Girls Athletic Association), an after-school club that met weekly for intramural competition. She played tennis, golf, cage ball, basketball, and her favorite, archery.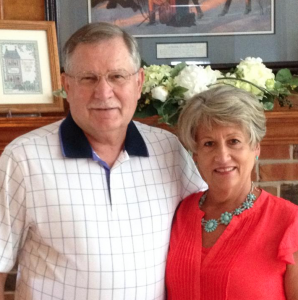 Cathy even married an athlete; a high school basketball and baseball coach, and a PE and math teacher. Living in Germany when her husband was drafted, they enjoyed hiking the beautiful outdoors. When they returned home to the US, they enjoyed organized sports: Cathy on racquetball leagues, her husband on handball leagues, and both on bowling leagues–individual and couples. Her husband even played on a fast pitch softball league that competed all over the Midwest. So when their girls were born, it never slowed them down. In seats on the back of their parents' bikes, they went along for the ride. And when her husband's career with State Farm took him on the road, Cathy put both girls in a double stroller and kept on walking.
It's no surprise then that their children turned out to be athletic as well. Cathy's girls started in gymnastics at 2 and 3 years of age, and the youngest pursued the sport all the way to the collegiate level on scholarship at the University of Missouri, a dream come true for the whole family. While the girls were taking lessons, Cathy began exercise classes at a skating rink with a wood floor. Aerobic dance was very popular. "I got hooked," she said. In fact, she was so good, she was approached to join the teaching staff, but her husband was transferred to Columbia. The first thing she did in December of 1985 was find a gym, The Body Shop. Cathy became certified through Aerobic Way in March of 1986, and when Aerobic Way merged into IDEA (International Dance and Exercise Association), Cathy completed another certification in 1987. Later, IDEA merged with ACE (American Council on Exercise) and Cathy was one of the first members certified with IDEA/ACE. Today she is a gold member and has retained her certification as an active member with the organization for nearly 30 years through continuing education.
Cathy became a member of Wilson's in January 1990 and within weeks she'd joined the teaching staff, leading classes in floor aerobics. In 1991 she fell in love with step aerobics. Around that time, music specifically produced for aerobics, with set beats per minute, hit the market and revolutionized her teaching. Previously she had to tape songs off the radio and merge them together, so this was a huge time saver. Cathy, to this day, loves choreographing her own routines and uses a variety of oldies and current music, as well as genres like rock, country western and disco. She meets each of her participants at their individual levels. "I'm privileged to be to able to reach the members in my class at their different ages and levels. I've traveled through many changes in the fitness industry, and over time, I've seen my own fitness needs and abilities change. I'm thankful for Wilson's where we provide varied levels of fitness opportunities to meet all of our members' needs."
Cathy has, over the span of 26 years, made an impact on a great many lives, including that of her gymnast daughter, Laura, who became a Wilson's group fitness instructor herself. "I am thankful for the opportunity to serve members throughout the years who have taken my class. I am thankful to be an instructor at Wilson's."