Amy Kuhlmann Appold is many things. She is a devoted wife to her husband, Martin, and a loving mother to her children, Lillie and Stefan—both of whom are adopted from Russia. Amy is an instructor with over six years experience at Wilson's, teaching BODYPUMP and BODYSTEP. She is a virtuoso violinist. She is a follower of Christ. And she is a breast cancer survivor.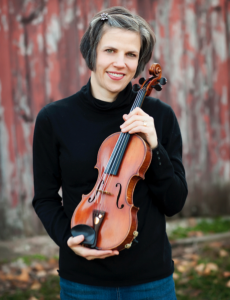 Amy started playing the violin in school when she was just ten years old. After only a year of lessons, it became immediately apparent she had aptitude and proficiency; she loved it, and she excelled. Private lessons and years of practicing led her to a decision in high school to pursue a career as a violinist. She finished several degrees while attending Eastman School of Music, Cleveland Institute of Music, New England Conservatory, Peabody Conservatory and The Juilliard School. In the midst of her conservatory years she began playing with three other musicians in a string quartet. Together they created The Maia Quartet. After auditioning for Juilliard as an ensemble, they were chosen for the quartet fellowship program, and for two years they worked intensively with the Juilliard Quartet, culminating in a Lincoln Center debut concert. With that performance, their touring and teaching career as a professional string quartet was launched. For the next 15 years Amy lived in Baltimore, New York, Louisiana and Iowa. She met and married her husband who followed her and found work as a geologist wherever they went. A scholar in his own right – Martin has a PhD from Johns Hopkins University – they eventually decided his career deserved a chance to flourish as well which coincided nicely with their decision to start a family. Martin's career took the lead, bringing them to Columbia when he secured a tenure-track position at MU. Amy said goodbye to the quartet and changed her focus from performing to teaching. She currently has 16 private students in her studio. She performs solos whenever the opportunity arises, at least a few times a year, and couldn't be happier with the changes. She has discovered a love and passion for teaching that never would have come about if her family hadn't moved to Missouri.
In the spring of 2007, when Amy was 37, she discovered a lump in one of her breasts. That sent her to the doctor and was the beginning of her journey. After testing, she was ultimately diagnosed with Stage I breast cancer. Surgery, followed by chemo and radiation plunged her into the life of a cancer patient. When the chemo had extremely adverse effects on Amy, her doctor named her one of his three worst patients, but once completed, she was given a 3% chance of recurrence. She set about getting her life – and health – back.
As a child, Amy was intent on the violin and had very little time for sports or physical activities. It wasn't, in fact, even encouraged. She distinctly remembers her mom telling her on the rare occasions she would exercise, "You don't want to do too much of that or you'll be sore tomorrow." But after her cancer treatments, at age 39, she stepped into the gym. For the first time.
"One of the first things I did was try classes. Immediately, I was hooked. I thought, 'Why wouldn't everybody LOVE this? What could be better than working out in a beautiful room with other people, guided by an expert who pushes you past your own comfort zone, in time with music?' Three classes a week quickly turned into four, five and six, and my physical ability grew as well. After about a year, I started looking at the instructors and thinking that I might have their skill set: fitness, musicality, good memory for choreography, love of people, love of the microphone, and performance experience." And she was right. Amy became a certified Les Mills BODYPUMP instructor in 2009, and a year later, she acquired her BODYSTEP certification, using those skills to reach others and share her passion for fitness and how it changes lives.
It would seem a 97% chance of full remission are good odds, but just a few years later she was diagnosed with breast cancer. Again. This was devastating news to not only Amy and her loved ones, but also to her Wilson's family: her members and fellow instructors. This time, when more aggressive measures like bilateral mastectomy, reconstruction, and chemo were taken, she had a whole team behind her. Chemo was brutal once again and even induced a toxic reaction that landed her in the hospital with pneumonia. Not one to shun a challenge, she fought her way back, to her health and to her classes. Her recovery was quicker due to her fitness level and she returned stronger and fitter than ever, with a new and hard-won appreciation for all her abilities, physical, mental and emotional. And gratitude for the support of those around her.
"Cancer taught me many things. For one, it led me to fitness, so I owe it a debt of gratitude. It also taught me that life is fragile, but that God is mighty and powerful, and loves me deeply." Amy is considered 'cured,' but there are no guarantees; she lives with the ever-present reality that cancer can return at any time. As a committed Christian, she relies on her faith in His infinite love for strength and for comfort. "Even though I don't know that the cancer won't come back, I DO know that a place in Heaven has been reserved for me, and that I will spend eternity with my maker and savior.  Ultimately, this life here will seem like only a moment in comparison with the time I will spend in Heaven."