Behind her step (and on, around or over the top), wearing the latest lululemon color-coordinated outfit, hair in a ponytail, mic on, music cued up, you'll find Sara McGuire in her happy place. 11 years ago she wasn't quite so sure. Just an hour into BODYSTEP® training she thought, "there is no way I'll be able to teach this class. It's just too hard." Well, she was wrong. She's been teaching BODYSTEP® ever since. Not only that, it has become her favorite class; it makes her happy. And when Sara is happy, her participants are happy; she rocks her classes and gives them workouts that are super fun and intensely challenging.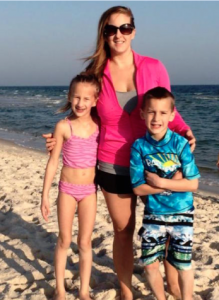 Sara loved BODYSTEP® so much that when she came to Wilson's 9 years ago, she proposed adding the licensed program to the schedule, pitching her skills and the allure of the class to management. With permission to demo the program for 3 months on the condition that if it didn't fly, it wouldn't stay, she was told, "A lot of people come to us with big ideas and within a few months, they're gone. Let's just see how long this lasts." And that was the beginning of a revolution in group fitness at Wilson's. More and more programs were added. New instructors were trained. Special events were held that built enthusiasm and excitement for group fitness. And participation exploded. We are all happy Sara loves BODYSTEP®!
Sara's career began 12 years ago with an AFAA certification in group fitness. A student at MU, she saw a flyer at the Rec Center advertising the training to teach aerobics and thought it sounded fun. Once she got a taste of being an instructor she never looked back. Everything about it felt right. A natural leader with both an instructive and supportive approach, Sara blossomed as a group fitness instructor, loving the experience of teaching and helping people reach their potential. She was passionate and took more trainings to broaden her scope. Since she's been at Wilson's she has added 
certifications in BODYPUMP®, BODYCOMBAT®, BODYJAM®, BODYATTACK®, BODYFLOW®, SH'BAM® and GRIT®. She'll be adding a 9th Les Mills® certification to her resumé this weekend at training for CXWORX®.
One of Sara's favorite memories is the 'Party Launch.' In April 2009, Wilson's group fitness staged an off-site event at the Courtyard Marriott. Featuring 4 programs and 20 instructors, it was an enormous undertaking. "We had no idea if anyone would come to a Friday night launch off-site." Over 100 people showed up; it was a huge success that would lead to many more events like the annual Fitness for a Cure which is on it's 5th year.
Another favorite, that she didn't expect, was teaching SH'BAM®. "I went to training simply because Catina was switching one of my step classes to SH'BAM, and I ended up falling in love with it. It's the first time I've ever had fun working out. In other classes, I'm aware how hard I'm working. With SH'BAM® I just have a good time!" Sara loves going to quarterlies with her teammates and has met many program directors and national trainers. But the highlight of her career would have to be when she met Sarah Robinson, a.k.a. BODYSTEP goddess and star of nearly every DVD release. When Sarah (with an h) visited, Sara (without an h) had the opportunity to meet her; but even better, she got to teach with her! It was literally a dream come true.
What Sara loves most is the 'group' in group fitness; a chance to exercise with others in a social way. She loves the music, using it to motivate herself. She loves to get her class members to respond in a similar way and will even sing if the mood strikes. "I enjoy group fitness because after a hard class, everyone is sweaty and exhausted and we know we all finished together. I still look forward to every class."