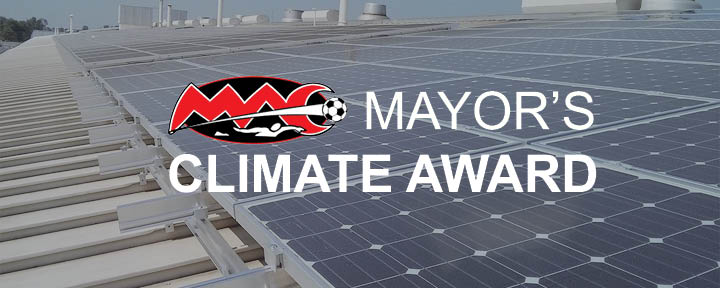 The MAC Wins Mayor's Climate Award for Big Sustainability Efforts
On March 13th, 2019, We were recognized for our recent push to become a "green facility." After working with EnergyLink to install new renewable energy systems, the MAC was  recognized by the City of Columbia for the positive contribution to the community with the 2019 Mayor's Climate Award.
Since 2015, the City of Columbia has recognized organizations who are committed to sustainability. Award winners had to have a qualifying energy project in the prior year to be chosen for this prestigious award. We saw this project as an excellent opportunity to decrease our carbon footprint and provide a better experience for members. Better lighting, improved air conditioning, and better temperature and energy management are just some of the many benefits members have noticed at the MAC.
Project Details
EnergyLink's engineers worked with us to model a design which seamlessly allowed them to install a 80.24 kW solar array on the MAC's rooftop, a new Trane chiller and ice energy storage system (to improve air conditioning in the building), upgraded building insulation, building controls with energy demand management (to make sure all energy systems run as efficiently as possible), and a new LED lighting retrofit which replaced their old, 400 W metal halide and fluorescent fixtures.
Making a Difference
Our decision to establish the MAC as a green facility allowed us to offset 163,363 pounds of CO2 and have a direct impact on the environment. To put this into perspective, that is equivalent to burning 79,081 pounds of coal. "Working with Wilson's was a great experience for us," claimed Chris Ihler, EnergyLink's CEO. "Wilson's truly wanted to make a difference in their community, so we are glad that we were able to be a part of that."