Robin May believes in community, that feeling of fellowship with others we get from sharing common attitudes, interests and goals. In fact, Robin believes community is absolutely vital to our health—spiritual, physical and emotional. As such, building a sense of community provides the foundation for everything she does. Whether it's among the health care professionals she works with at Ironwood Pharmaceuticals, dedicated to helping people live the best quality of life, or the folks at Veterans United Home Loans where she focuses on enhancing faith and wellness, or with the members of her faith community, or her fellow instructors and the participants in her classes, people coming together for the greater good is what Robin is all about. Making the world a better place. At work and at home, Robin lives her truth every day because she knows that pouring energy into community is a positive feedback loop in which you always get back more than you give. At Wilson's, that translates into more than just fitness. "I can't overstate how important community is in my wellness journey. I couldn't continue to be disciplined and excited about exercise if it weren't for the people I get to do it with. Group fitness pushes me to new physical heights, but it feeds my soul along the way, too. Both are equally important."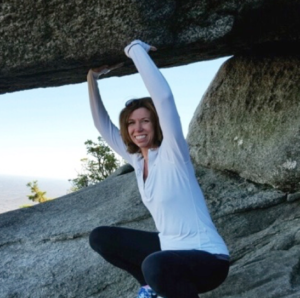 Exercise has always been a part of Robin's routine. Attending high school in Hughesville, MO, she enjoyed competitive sports, especially basketball and volleyball. After marrying a runner in 1994, she slowly, but surely, became serious about running. She started competing in 2000, and in the years since, has completed races of all distances, including three marathons and several duathlons. Fast-forward 22 years, and Robin says she loves running. An integral part of her identity, being a runner helps her connect with God and nature in a way that nothing else does. It also provides yet another community, one of dedicated runners who meet in the early, dark hours of the morning, logging several miles before the rest of the world is out of bed. Coming full circle, running is a shared passion between Robin and her husband, Tom, an amazing runner himself who seeks constantly to learn about and grow in the sport. Whether nature or nurture, running is something the entire family enjoys; both of their children, Madison, 20, and Matt, 18, are competitive runners. In fact, Madison competes for the University of Central Missouri, Robin's alma mater, where she received her undergrad and grad degrees in Communication. Running is so central to their lives, last summer the Mays took a 12-day family vacation to Eugene, Oregon for the USA Track & Field Olympic Trials and all agree it was the best vacation they've ever had.
In 2001 Robin came to realize that cross training was critical to keeping her injury-free and absolutely necessary to keep her on the road putting down miles. She started taking spinning at Wilson's and fell in love with it for the intensity and cross training benefits, not to mention – you guessed it, the community it provided. After a few years, Robin felt pulled toward teaching. Though always athletic, when she started a consistent exercise routine as an adult, she adopted healthy eating habits and subsequently lost 40 lbs. Driven to share her own experience with others, and with the encouragement of her spinning instructor, Don Corwin, Robin decided to take the jump and became an instructor in 2007, sending the message that big changes are possible when faced with the support of a community. "I understand what it's like to be self-conscious about body image and I wanted to help people in that struggle." She started at Wilson's with indoor cycling, and when she needed a new challenge, she obtained her certification in KettleWorX in 2014. Robin is also certified in TRX and house-trained in Hot Barre and currently teaches KettleWorX and Hot Barre on the schedule. "Teaching motivates me to live fitness as a lifestyle. It also challenges me both physically and mentally, and I enjoy that added dimension of the workout. Plus, I really like being in charge!" All kidding aside, the community in Robin's classes and the friendships generated there are "an incredible blessing" to Robin. She continually reaches out to new people and the positive feedback loop continues. "It is so exciting to see people transform their lives!" There's no question Robin is a blessing to everyone in her many communities, and we at Wilson's are grateful to have her as part of ours.