Ask Fran and she will tell you she loves what she does. Whether it's as a group fitness instructor, which she's been for 34 years, or as a nurse—her true calling, which she's been for 38. Between her time in the studio and her time in the hospital, she has been instrumental in making lives healthier and happier, influencing thousands and thousands of people, for nearly four decades. Ask Fran about the scope of her reach and she will modestly turn down any praise. Instead, she reflects on the passage of time. "Wow, it's gone quickly," she says.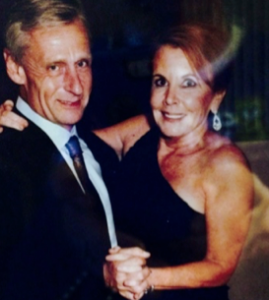 Fran Welek grew up in St. Louis, not in the suburbs, but in the city limits on the south side, along with four sisters. Her parents were active, exercising long before it was trendy. "My dad rode his bike, walked and played handball. And my mom still walks in her neighborhood every day. She's 93 and still lives on her own." Fran's father as first the City Attorney, then a Circuit Court Judge, was highly involved in making St. Louis what it is today. As president of the St. Louis Zoological board in the 1970s, he wrote legislation to provide financial support of the zoo not only from residents within the city limits, but also those in St. Louis County. For this reason, there are no admission fees for the STL zoo. It was important to him that the experience be accessible to everyone. In high school and college, Fran worked as a zookeeper in the children's zoo. She loved the job but says she can't eat raisins to this day because she "raked up turds in the antelope house."
Her parents, as professionals themselves, her father, an attorney, her mother, a navy nurse in WWII, emphasized the importance of their daughters' education. Of Fran's four sisters, one became a CPA, another an attorney and two, physicians. And Fran followed in her mother's footsteps. In 1978 she started the nursing career that continues to this day. For all of her 38 years, she's worked in the ER of the same hospital, through its various incarnations, now known as Women and Children's Hospital. An RN, BSN – CEN CPEN, Fran is nationally certified in emergency nursing with a specialty certification in pediatric emergency nursing. She's also an instructor for the AHA for Pediatric Advanced Life Support as well as for the Emergency Nurses Association for Trauma Nursing and the American Heart Association.
In 1982, Fran began teaching aerobics when her good friend opened the first studio in Columbia, BodyWorks. In 1991, she came to Wilson's where she's taught for the past 25 years, with many of the same loyal participants who started with her 'back in the day.' "I love the people in my classes. We've been through a lot together—from the birth of our children to now, the birth of our grandchildren." One of her regulars, Sara Hill, actually came close to giving birth in class when her water broke as she was stepping! Fran's fans love her so much that in 1996 they made shirts featuring all the quirky things she didn't realize she said while teaching. Every instructor knows you can never be sure what will come out of our mouths once the mic is on. The colorful blue shirts printed with contrasting pink ink reflected the class's sense of humor with a word cloud of phrases like, "Left, I mean right!" "Right, I mean left!" Last set, I promise!" "Four more—I lied!" "Are you squeezing?" "Squeeze harder!" and "Give it to me deeper!"
Over the years, Fran has taught a wide variety of formats, but currently teaches Step and Studio Barre. She holds certifications from AFAA in Pilates, Les Mills in BodyJam and BodyStep, and SCW in Ballet Barre. She also received in-house training in Hot Barre. She and her husband of 36 years, John, owner of Welek Construction, have three sons. Tom, 33, an MU graduate with an MBA, is married to Lee, an attorney. Ten months ago they blessed the family with a beautiful granddaughter, Isla. They live in Kansas City. Sean, their middle son, who at age ten had a liver transplant, is a healthy 31-year-old who runs 30-40 miles a week. And youngest son, Ben, 27, finished his MBA at MU and moved to NYC to pursue his career. Since he loves the hustle and bustle of the big city, Fran doesn't think he'll be returning home any time soon.
And as for Fran, if you ask her when she might retire, she will tell you she doesn't know; she loves what she does. She'll tell you when the time is right, she'll know. Much to our relief, the way she's going, that won't be any time soon either.