KATIE TILLMAN

By: Lisa Kent; Assistant Group Fitness Director
Katie Tillman approaches life with a 'push the limit' attitude. Despite having Type I Diabetes, Katie became an instructor seven years ago. Now, two children later and busier than ever, she's still going strong! "I turn 36 next month and my body feels capable of anything."
The website gives a snapshot of Katie Tillman's fitness career in her instructor bio: Katie is certified in Les Mills BodyAttack, Sh'Bam and RPM. She's also an ISSA certified personal trainer. Katie has been teaching for seven years, four of them at Wilson's, starting in 2010.
Her profile lets everyone know what she enjoys about teaching and why she chose to become an instructor. Katie loves making people laugh and forget their troubles. She loves hanging out with her friends, de-stressing and having adult fun. Living with Type I diabetes, she knows about the benefits of fitness towards physical wellbeing and a healthy lifestyle. It makes exercise complicated and difficult, but it doesn't stop her from struggling through it every day and inspiring others to do the same.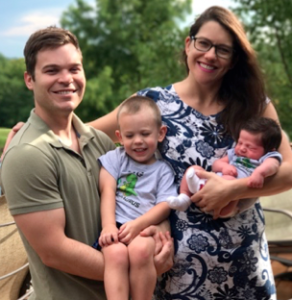 But what else is there to know? To find out, I reached out to Katie who is currently on maternity leave after giving birth to her second child, Cormac, just five weeks ago. Recovering at home while caring for her newborn and his big brother Roland who turns three next month, Katie's been challenged with recurring postpartum complications. Through it all, she displays a signature optimism and strength of character that is truly astonishing. Who is Katie, you might ask? Awesome instructor? Devoted mother? Resilient patient? It turns out she's all that and a whole lot more.
LIFE WITH KATIE.
LK: Katie, how is your new baby? And how are you? Home life must be different now in your little family of four.
KT: Life is suddenly much busier, and time is flying by. I'm feeling great and gearing up to go back to RPM and I can't wait. I just had a dance party with my 2-year-old to Les Mills tracks for an hour and got psyched. The baby is so sweet and not fussy and he's huge! He's filling out 3-month onesies at 4 weeks. Sleep is hard to come by around here, but I feel so lucky. And I'm flattered and honored to be in the spotlight!
LK: Well, let's start from the beginning. Where did you grow up? Tell us about your educational background.
KT: I grew up here in Columbia and went to college at University of Wisconsin-Madison and got a BA in History. I spent my whole senior year studying abroad in Madrid, Spain, and as soon as I got back, I packed up my two-door Accord and drove to Austin to start law school at the University of Texas. I spent a semester studying abroad in Buenos Aires, Argentina. After graduation I worked for a couple of years at the Texas Attorney General's Office doing criminal appeals before moving to Chicago to be near my siblings and work with my brother doing criminal defense. Unfortunately, I hated going to court, dealing with other lawyers, judges and the clients too, so I started taking prerequisites at city college to get into Mizzou's accelerated BSN program to become a nurse. I came back to Missouri to finish up while living with my parents and working at the hospital to save up for school.
LK: You've been an attorney and a nurse? And now you're seven years into a third career as an instructor and personal trainer. How old are you, anyway!?
KT: I turn 36 next month. I admit to a certain lack of direction, but I always feel compelled to know what everything in the world is like before confining myself to just one path. We only live once, and time passes so fast!
LK: So what brought you to fitness?
KT: I've danced all my life, but I had terrible hand-eye coordination and failed abysmally at all team sports. It was when I came back home that I started taking lots of Combat and Pump classes with the infamous and nefarious Lisa Kent.
LK: Haha. I remember! You were a rock star.
KT: It was a place to make easygoing friendships and feel good about myself, so as a prodigal townie adult living in her parents' basement, I went a lot! Most of the Les Mills cardio classes feel just like dance class, which I missed from childhood, and the choreography came easy. Plus the instructors seemed like the type of family I'd like to be a part of, so when Lori Doherty encouraged me to take Attack training, I went for it. Man, did I have to get in better shape, though! I remember blacking out and nearly barfing while teaching many of my early Attack classes, a feeling I revisited years later in RPM training. Teaching was so nerve-wracking and intimidating at first, but once I got the hang of it, I was addicted to that high. I finally found something I'm good at!
LK: You are awesome at it!
KT: I remember once, seeing you looking shaky before a Combat launch. You confessed that, even with all your experience, you still get a little nervous before every class. Me, too! But it's nervous excitement, not stress, and as adults that's such a rare and not unpleasant sensation.
LK: I know exactly what you mean. Teaching is an intriguing experience—the challenges are great, but the rewards are far greater.
KT: To be honest, I keep teaching group fitness through all the changes in my life because it gives me a high. I am an excitable person, and something about being on the mic with the music turned up, in front of a group of people wanting me to take them higher, makes me go crazy. Watching my energy infect others is intoxicating. When a track ends and everyone groans with a smile on their face, that's music to my ears.
LK: When you first started teaching, Katie, you were such an inspiration–you still are. You would stop just long enough to take your blood sugar, and then get back in the game, the very picture of determination and perseverance.
KT: Since my body doesn't work the way it's supposed to, and every day I have to make an effort just to stay alive and healthy, I like pushing my body to its limits in fitness. Seeing how powerful, or fast, or coordinated I can be in class helps me feel like I'm winning the struggle. I like to say to my class, "If I can do it, you can, too!"
LK: Diabetes wasn't going to stop you from doing what you were there to do. I have a feeling you adopt that attitude in more areas than just your physical health.
KT: I try to keep the same "push the limit" approach to life outside the gym. I've lived or traveled in more than 20 countries on 5 continents. My idea of a great vacation is climbing a 14er (for those unschooled in scaling mountains, that's short for a 14,000 ft. peak) or hiking across the Argentina-Bolivia border on foot.
LK: And now that you have a family?
KT: Having children has definitely kept me from succumbing to my wanderlust, but in reality it's yet another adventure in life I would be remiss to skip. My children are adorable and fascinating, and I can't wait to know them as adults. And Rob is my soul mate and my best friend; I wouldn't attempt the incredibly onerous task of dealing with a 2-year-old and a newborn with anyone else.
LK: How did you meet your husband?
KT: I met Rob the same year I started teaching group fitness. He was taking a gap year between college and law school, working at the hospital. I knew he was a keeper when he willingly subjected himself to both the physical intimidation of my Attack class and the alienation of being the only male in my Sh'Bam class. He started law school in Kansas City while I finished nursing school, and right after graduation I moved to KC and we got married. Next month is our fifth anniversary.
LK: Congratulations! So, when did you come back to Columbia, and what brought you back?
KT: I worked as a nurse and taught classes in Kansas City for three years before Rob's work brought us back to Columbia. And me back to Wilson's.
LK: Yay! And we are so excited to have you back. So what's next for you, professionally speaking?
KT: I consider my class participants and especially my fellow instructors to be true friends, and they have been a great source of comfort and strength in hard times. Even if we don't talk on the phone or run into each other every day, I feel like every time I go to the gym I'm going home. And that's where I want to be. Every day. I taught RPM through my pregnancy, coached Team Training with Kelie Morgan, and trained PT clients. Now I'm taking a big step back to heal my body and focus on family. But that won't keep me off the mic—I'll be back in RPM as soon as I can!