Janette Keller is a FIT lady. Not only is she strong, healthy and vibrant, but she also belongs to a special sisterhood: the ladies of FIT, also known as Females in Training. Powered by Wilson's, FIT was home for decades to a community of like-minded, amazing women who came to improve their fitness and walked away with friends for life. The doors may have closed, but the memories made there will be cherished forever, and the spirit of women empowering women will live on in everyone honored to call themselves a FIT lady.
In 2004, when her oldest daughter was exactly three months old—the minimum age for the play center, Janette came to Wilson's. Facing the challenging task of transitioning from full-time work to part-time, with a new baby, she met other moms with young children who became her support system. "We would meet at FIT at the same time every day, to get our exercise, adult time, and a chance for our kids to play with other kids." Group fitness classes offered fun, motivating workouts with a collective synergy made up of each person's efforts. Sharing the experience brought the ladies closer as they built their athleticism. During that time, a grass roots running group sprouted up among the regular attendees of BodyCombat class. Janette was instrumental in growing the club, named BodyCombat Chicks, or BCCs for short, into an organization boasting over 200 members at its peak. After training regularly together, the group competed in local 5 and 10Ks and half marathons. They later expanded their horizons and traveled to races around the country. "My running career progressed with every race and culminated with the achievement of running the Boston Marathon, a lifetime goal. And it began with these same ladies who became my closest friends."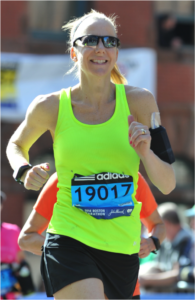 Janette's professional career as an RN began in 1997 when she graduated with her bachelor's in nursing and started working at the University. In various capacities, both full-time and part-time, she spent 18 years in at the University working in critical care, specializing in the Cardiac Intensive Care Unit. In addition, from 2000 to 2004, she taught medical surgical nursing at Columbia College and obtained her Master's degree in nursing in 2003. Since exercise has always been a great source of stress-relief, fun, and achievement for her, it was inevitable she'd become a group fitness instructor herself. "As I started the process, sharing what I was passionate about came very naturally for me. My medical background adds significantly to the knowledge of exercise I bring to the classes I teach. I find joy in seeing and helping others love their fitness classes, too."
In 2013 she became certified in Les Mills GRIT and started teaching at Wilson's. She also pursued teaching yoga in the hot studio after finding the practice extremely helpful during marathon training to balance the effects of running on her body. In 2013 she obtained her YogaFit Level 1 certification and currently teaches yoga, Fusion and Hot Barre. A lifelong learner, Janette continues to take several yoga trainings a year, working towards advanced credentials and enjoys exploring additional forms of yoga; aerial, partner, gentle and power yoga.
Janette also shares her devotion to fitness with her family, working to instill the love of exercise in her children and creating an active home life, engaging the whole family in biking, swimming, hiking and yoga. Growing up with athletic parents, fitness was woven into her childhood. She played many sports, several of them competitively. Her favorite memory is from junior high school when she took the high jump record from her big sister and made it her own. Continuing her legacy, Janette wants her children to experience a sense of achievement, adventure and the love of the outdoors. This summer, when their vacation to the Smoky Mountains was filled with hiking and exploring nature, they did just that.
It hasn't been an easy road for her and her husband, John of 17 years, to build the family they cherish. After their oldest daughter was born, they suffered through five years of infertility before starting the journey to adoption. Two beautiful adopted children rounded out their family of five, leaving them passionate about the process. Janette and John remain active in the foster/adoption community in Columbia, and help run a local support group, mentoring other couples undergoing the adoption process.
Activities that fill her time when she's not teaching include entertaining at home, organizing school class parties, gardening, and coordinating outreach mission projects for the women's Bible study at her church.
Ask anyone who knows her: Janette simply radiates positive energy. She inspires others with the ability to push herself, physically, and mentally, motivating others through resistance and encouraging them to meet challenges. And of course, celebrating the accomplishment of the finish!
"The greatest reward for me is seeing a light of confidence or success come across the faces of my participants when they realize they, too, can do it."