Eric Blumberg knows the best teachers are also students themselves. He knows that continual learning keeps us moving forward and never slowing down. Like the Tim Robbins character, Andy Dufresne from his favorite movie, The Shawshank Redemption, Eric lives by the adage, "Get busy living or get busy dying." Always building on his skills, and tackling new adventures, he never backs down from a challenge. With boyish good looks and a charming, yet mischievous smile, Eric gives off the impression that he's got a well-kept secret. And we want in on it.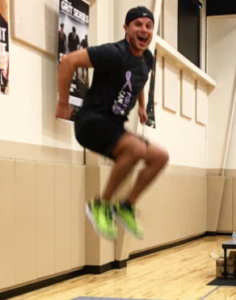 He grew up in Plano, Texas, a suburb of Dallas, one of four kids. After graduating high school in 1993 he moved to Columbia with a dream; to beome a TV sports reporter. For four years he attended the renowned J-School at Mizzou – that's the School of Journalism for those not familiar with the term, or with the prestigious program to which it refers, possibly the oldest formal journalism school in the world. With his Bachelor of Journalism degree earned in 1997, Eric did in fact work as a TV sports reporter, first in Beaumont, Texas, then back in Columbia at both KMIZ and KOMU. In his 18 years of professional journalism he fulfilled his dream many times over, covering Mizzou bowl games, NCAA basketball tournaments, the Daytona 500, the Super Bowl, multiple World Series and even the Little League World Series at the time Columbia sent a team to the competition. In addition to reporting, from 2005 to 2015 Eric taught as an adjunct at his alma mater, sharing his experience and expertise with students like he once was, students with dreams. After 10 years of teaching, Eric closed that chapter, receiving accolades and honors for his influence. The praise of former students remains a rewarding validation of his career, and Eric loves to follow their successes with pride as his students-come-journalists show up everywhere from ESPN to CSN.
As a kid, Eric was naturally athletic, playing baseball and excelling at tennis. During college, fitness took a back seat to working 60 hours a week at the TV station. As an adult, Eric was always a regular gym-goer, and in 2010 he joined Wilson's. After experiencing death by boredom on the treadmill, he turned to group fitness classes and became an avid participant. One of his first BODYPUMP instructors, Erica Beshore, inspired his admiration, but after attending regularly, it was Kelie Morgan who encouraged Eric to go to GRIT training. It could have been that she spotted his potential, but he wonders if maybe she just wanted him off the front row of her classes where he routinely heckled her, making faces and yelling out insults like, "too easy!" during bottom half squats.
In 2013, the timing of the GRIT training was perfect for Eric who was in transition with his career; 'retiring' from TV and joining Veterans United Home Loans as a video producer. Having spent years in front of a camera, putting on a microphone was the easiest part of coaching. Memorizing choreography, however, proved to be his biggest obstacle. "Where's the teleprompter?" he says with a chuckle. But, ever the performer, Eric's improvisational skills have served him well. Adjusting the workout when he makes mistakes so the class remains completely unaware of any slip-up is an art form he is fond of perfecting.
After GRIT, Eric went on to add BODYPUMP and CXWorX to his list of Les Mills certifications. He also runs Team Training sessions and is currently studying for his personal training exam. Using his journalistic know-how, Eric has acted as MC, photographer, and videographer of many of Wilson's events, including the most recent Fitness for a Cure. His work beautifully showcases the best of what we offer. Eric also makes an extra effort to promote his classes and build personal relationships through social media. He's been highly successful at creating community with his Facebook groups, "Wilson's Fitness BodyPump" and "Wilson's Fitness GRIT Athletes." This access to an exclusive, closed group enhances his members' sense of belonging and builds trust. In the classroom, his enthusiastic drive coupled with a charismatic personality, make Eric, the coach quite compelling. "I love that he is super motivating and uses humor," says one of his regulars. "He has a way of challenging you to push yourself by making you feel he believes in you. Then you don't want to let him down!" Those who know Eric are familiar with his competitive streak and his participants aren't spared. If his ball cap is turned backwards, he's ready to fire up and push them to the very end. Eric initially became an instructor to challenge himself, but it wasn't until later that he realized he could make a difference in someone else's life. "Once people come to my class regularly, they become a member of my tribe. We make class T-shirts and I give them trinkets like tribal necklaces. They're part of my family. The key is getting them in the room. Once there, I know it will be a good time." He wishes more men would give classes a try. Eric's dad, Rick, 70, attended Eric's GRIT class and now attends in Texas, partly due to his son's example and the benefits he derives.
In his day job, Eric makes videos about the Veterans United Foundation's donations and other productions that either entertain or inform their customers or employees. Consistent with that purpose, Eric's two roles overlap as he also seeks to inform and entertain his participants when coaching classes. He takes seriously his responsibility to educate students about the techniques and goals of the workout, all while providing entertainment; mandatory smiles in the warm-up, clever jokes, and maybe even a little air guitar with the barbell.
Eric's daughter, Trina, is 11 years old and known online as #CuteKid; her dad's journalistic tendencies extend to proud father postings on social media complete with #CutePhotos of #LifeMoments. Dad and daughter have two kittens, Twix and Charlie, both less than a year old. #Awwww. Eric is also a devoted son and brother to his tight-knit family of origin. His parents still live in Plano where he was raised. He's remained close to his mom, Wendy, whom Eric says gave him a love of animals and "the gift of gab." And though the siblings are spread across the country, they stay connected by meeting every summer for a reunion in Destin.
Eric's favorite moments from teaching include an annual GRIT class at the Beach Club, the impromptu teaching as a BODYPUMP trainee when the instructor suddenly injured her back, and a 10K plate crashing to the ground mid-track when he forgot the clamp. But perhaps the most memorable is when coaching folks to contract their glutes, he said "Squeeze your…" then combined the words 'booty' and 'tush.' . . .You can figure it out. Eric's not slowing down any time soon, and no matter what he's doing he's got that happy-go-lucky smile on his face. So, what's his secret? He's not telling, but we can speculate.