Summer…a time to unwind, soak up the sun, find some peace and quiet, take a vacation, drink a few extra drinks, eat a few extra treats and before you know it your health endeavors have taken a left turn at Albuquerque.  While it's perfectly acceptable to let go every once in a while, especially when we are on our summer vacation, there are a few ways to avoid those unneeded extras.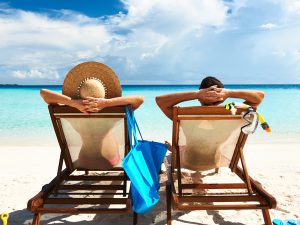 1. EAT IN
Restaurants serve large portions and we eat it! Who wants to waste food? Most restaurant meals contain more fat, calories and sodium than those we would make on our own. When on vacation, if you have access to a kitchen, use it. Make healthy choices at the grocery store, cook your own meals and take advantage of the fresh, local produce. If you're in a hotel and have only a mini bar, bring a cooler to store your fresh and healthy snacks. You will still eat out and that's okay!
2. CHOOSE WISELY
When you do eat out, there are a few ways to cut back on calories as well. You can order half portions, share meals, choose from a 'healthy' part of the menu, eat an appetizer as the meal (usually smaller portions), and take home left overs.  It's also ok to customize your order. Ask for oil and vinegar on your salad rather than the house dressing, order your burger without the cheese or the bun, ask that your veggies be steamed in water rather than butter.
3. SLOW DOWN
You are on vacation for goodness sakes! Take the time to slow down and enjoy every part of your experience, including the meal. Research shows that when we aren't rushed to eat our food, we tend to eat less because our bellies have time to tell us we are full before we eat the entire plate.
4. SIGHT SEE
Start your day with a walk, some stretching and some yoga! Walk and move as much as you possibly can. Even if you are trying to get away from your every day workouts and standard workouts, you can enjoy strolls on the beach, around town, or even climbing up a beautiful mountain. You might even find that you get more steps and burn more calories on vacation than you would during your normal work-week.
5. A TREAT A DAY KEEPS THE FAT AWAY
It's ok to have treats while on vacation. Maybe choose one a day rather than indulging throughout the entire day. If you deny yourself that brownie with lunch, it's ok to enjoy a slice of pie under the moonlit sky.
6. DRINK ALL DAY (WHOOHOO)
H2O of course. Staying hydrated is crucial to normal system functions and it also helps stave off that boredom hunger.  Carry a bottle of water with you at all times and alternate back and forth between water and your fun drinks.
7. EAT YOUR VEGGIES
Buy as many vegetables as you can, and eat them, along with some fruit, every single day of vacation. Summer is the best time to enjoy all of the fresh veggies. You can even figure out what is native to the area you are visiting and make a special effort to eat and enjoy those native garden delights.
8. PLAY GAMES 
Create a score card and a game board. It might look something like this:
* For every adult beverage consumed, do 20 push ups.
* For every unhealthy meal, complete 50 bodyweight squats.
* For every treat or dessert, do 20 burpees.
Whatever you do, have a great vacation. And remember, a break from your routine is good for you. And it's ok to have fun without completely sabotaging the remaining 358 days of the year!