2023 BEACH CLUB GROUP AND PRIVATE SWIM LESSONS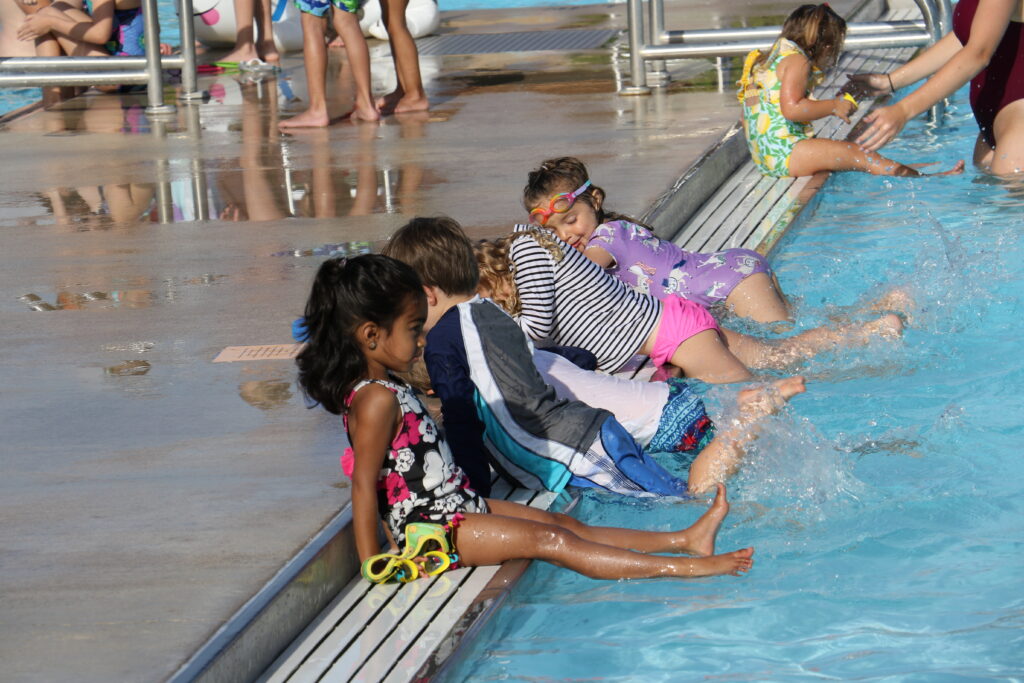 Our instructors will instill a love for an amazing sport and safety skills for your child! Swimming is a skill that will last a lifetime. From infants to flying fish, children and youth of all abilities will become safe and confident swimmers. We are committed to providing quality lessons and teaching your child to excel in the water.
Simply put, we learn in different ways. Sometimes, swimmers need more one on one time when learning a new skill. Our team understands your children may have varying needs or your family may need to schedule lessons that better fit your schedule.
PRIVATE LESSONS:
30 min. sessions = $35 per private lesson
40 min. sessions = $45 per private lesson
SEMI PRIVATE LESSONS:
30 min. sessions = $30 per swimmer (limit 2 swimmers)
40 min. sessions = $40 per swimmer (limit 2 swimmers)
Find out more information by contacting Dawn! [email protected]
Level I Infant/Toddler a.ka. Guppy: An enjoyable class for a parent and child to learn to communicate in the water. Both parent and child learn water orientation and work on developing water safety skills. Benefits include bonding with child, water awareness, water safety,children begin to learn to take instruction, self confidence, and as they get older begin to develop beginning swimming skills.
Level II a.ka. Polliwog: A water adjustment class designed especially for beginners in the water to develop beginning swimming skills and promote independent water movement. Begins to teach basic stroke and kicking skills, blowing bubbles, floating both front and back as well as pool safety and fun ways to learn to fall in love with the water.
Level III. a.k.a. Eel: A class for little swimmers who are already moving independently through the water 5 yards with flotation device on front and close on the back. Introduces rotary breathing and a variety of water skills to continue to grow independence in the water. We work on kicking and jumping in the water independently. We encourage swimming several feet on their own without floatation device.
Level IV a.k.a. Starfish: For children who are comfortable in the water and able to swim five feet with faces in the water and no flotation device. The primary focus of this level is on rotary breathing and learning backstroke properly, freestyle independently, elementary backstroke and treading water. We start the basics of butterfly and diving. During the summer months we introduce the diving board.
Level V a.k.a. Minnow: This class is designed for swimmers who are able to swim 15 yards freestyle with faces in the water and have a very good understanding of rotary breathing and do not use flotation devices. Reviews backstroke while focusing on butterfly and flip turns. Breaststroke is introduced at this level. Children who are in this level should be completely independent. We also focus on building endurance.
Level VI a.k.a. Fish: Our highest level of lessons, a class for swimmers who are able to swim 25 yards of freestyle and backstroke with a very good understanding of breathing and technique. Should be able to swim 15 yards of butterfly and breaststroke. Most of this class time is focused on proper technique for all four strokes while mastering flip turns and starts. The children will focus on technique and getting in shape for the Flying Fish level.
Level VII a.k.a. Flying Fish: For those swimmers able to swim 50 yards freestyle, backstroke, over 25 yards breaststroke and butterfly. Basic knowledge of open turns and flip turns is helpful. Our goal is to get children ready for swim team with an hour long session twice a week. We train while working on the 4 competitive strokes at the same time. Most of this group is swimming as a form of exercise, on the wait list of a competitive swim team or training until the summer league session rolls around again. 
Group Swim lessons will be 40 minutes long and will be limited to no more than 5 swimmers per class. Lessons will run Monday-Friday the first week and Monday-Wednesday the second week. If a class is canceled due to inclement weather or for other reasons decided by management, a make-up day will be held on the Thursday or Friday of the second week. All sales final. Each session is $90 
Wilson's reserves the right to cancel a class due to low enrollment. If enrollment calls for such, levels (for example, Levels V & VI) can be combined in order to host a class. 
June 5th – June 14th 2023
10:30 – 11:10AM
11:20 – 12:00PM
June 19th – June 28th 2023
10:30 – 11:10AM
11:20 – 12:00PM
6:00 – 6:40PM
July 10th – July 19th 2023
10:30 – 11:10AM
11:20 – 12:00PM
6:00 – 6:40PM
10:30 – 11:10AM
11:20 – 12:00 PM
6:00 – 6:40PM
Unfortunately, with limited instructor availability- there won't be August lessons this year. 
BEACH CLUB HOURS
Summer 2023
Mon-Friday 12:00PM-8:30PM
Saturdays 10:30AM-8:30PM
Sundays 12:00PM-7:00PM
*Please see events page for full calendar with events and early closing dates.
2023 MEMBERSHIPS
Available at any Wilson's Fitness location.  
INCLEMENT WEATHER 
Hours may change due to inclement weather. Up to date information will be posted on FACEBOOK and can also be viewed on main Beach Club page anytime. 
BEACH CLUB ADDRESS
4600 Forum Blvd. Columbia 65203
(573) 447-6575
CONTACT
Dawn Stephens
[email protected]