By: Lisa Kent
Linda knows firsthand the impact a great teacher can have on a student. For over 40 years, she was the force influencing young lives, teaching Spanish curriculum at Hickman High School and The University of Missouri. And for the past 14 years, Linda has led people of all ages in their yoga practice at Wilson's. She says, "The best thing about teaching is when someone tells me how yoga has changed their life." But like all of us, before Linda became a master, she was first a student. In 2002, deciding her knees could no longer tolerate high-impact classes, Linda looked to yoga for an alternative. Under the instruction of teachers at the old Wilson's on Forum—near the Schnuck's shopping center, she discovered yoga was a great mind/body workout, and after several months of regular practice, one of the teachers asked her to sub. That was the beginning of the journey that Linda continues today, growing as a teacher and changing the lives of her students.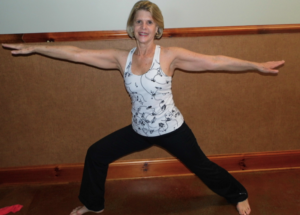 She sought training to expand her repertoire of skills. Certified through YogaFit in Levels I and II, Linda began teaching at Wilson's in 2002. In order to fufill the requirement of Level I which is to teach a number of classes as community service, bringing yoga to those who might not otherwise experience it, she volunteered at the old Wilson's North on Vandiver, which offered no yoga classes at the time. "My first class," she says, "had two and a half students. One of them left before class was over!" But it didn't take long for the yoga program to grow with Linda leading the way. Several of her students became instructors themselves and continue to teach to this day, one of her proudest achievements as a yoga teacher. As a career teacher, Linda embraces everyone who walks into her class. "Patience and a sense of humor make teaching fun and successful for students in any environment," she says, incorporating this approach into all her classes. She often tells her participants that yoga "shouldn't hurt," and firmly believes that at her age she does not need to include any difficult or tricky poses—no headstands, no splits. At 67, Linda has nothing to prove, though she acknowledges others may enjoy the challenge. Her style can be characterized as Ashtanga, featuring a series of poses that flow and complement each other with music carefully chosen from popular and classical sources. And at the end of class—one of her favorite parts, and her participants' as well, Linda circulates the room, gently rubbing essential oils on the temples of those who are receptive to her personal touch. "I love to watch their faces; smiles, expressions of peace, even some drifting off to sleep."
A typical class might include women of all ages and a few brave gentlemen, and in her longstanding Tuesday morning 8:30 am, many regulars have become friends. They come together, not only to practice yoga, but also to visit and chat before and after class. Linda herself has made lasting friendships with her students over the years.
When Linda is not teaching, she likes to swim, bike and walk on the Katy trail. She enjoys reading and belongs to not one, but four book clubs. Linda is a docent at the Museum of Art and Archaeology at Mizzou North and serves on the Museum Associates Board as secretary. She jokes that she is the "oldest living docent" having volunteered for 35 years as a tour guide. She is active in her church, and regularly visits a 101-year-old resident at the Lenoir Complex, a gentleman who just wants to converse in Spanish. Linda is more than happy to oblige. "What a great gig for a retired Spanish teacher!"
Though she has no children of her own (not counting the thousands of students from 41 years of teaching), she enjoys her step-daughters, step-granddaughters, step-great-grandson, niece and nephew. Linda and her husband, Rick Crow, travel whenever possible to favorite destinations like Spain, other Spanish-speaking countries, and Italy. She's travelled extensively in the U.S. and just recently completed the impressive feat of visiting all 50 states with a cruise to Alaska this spring. She is a proud graduate of Grant School, Jefferson Junior and Hickman High School.
Linda continues to welcome all that life has to offer, as a teacher and a student. "I love teaching because I can see my students grow in their strength and appreciation of all the benefits of regular yoga practice. It's rewarding to share my passion with others." And we are rewarded by her graceful, elegant presence on our team.